September 11th, 2013
---
04:23 pm
I finally found a psychiatrist. I dont know yet if he is good or not as I have only seen him once. He did add Wellbutrin SR on to my med regimen and it seems to have helped. I feel much more clear headed (less foggy) than I did before and I do have more energy. I actually fit into one of my favorite dresses today too : ) BONUS!! Things are going much better. I went to the pound two weeks ago and got Jules and I a kitten. He's all white and his name is "Lucien". He was a feral cat, so for the first week all he did was hide. However, after reading everything I could find on domesticating a feral cat, he has come around. He no longer protects his body with his tail, he meows, he purrs, he lets me hold him..... It's Awesome!! He was so afraid that first week I didnt think it was going to work. I was supposed to take him to get another vaccination on Sunday, but Friday night was the first time he let me hold him, so I didnt want to mess it up by caging him and taking him in for shots. I will take him next week. Gotsta go....

August 14th, 2013
---
12:16 am
Tuesday Snoozeday! I've got 45 mins left of work then I get to go home and be alone. After being in a cube alone all day, I long for human contact as of late. I was living with a long time boyfriend of mine up until approx a month ago. I asked him to leave because he had a drinking problem. He was not violent or mean, but he just was not there. I was just as lonely then as I am now. I have to keep reminding myself of that. Yesterday marked 14 years since the passing of my father. I guess it has gotten a little easier... As hard as it is to say such a thing. I cried yesterday, but only for a moment, not for the whole day on and off as usual. For some strange reason, ever since my mom died, then gramma, I have not been to the cemetary much. Maybe it's just too overwhelming now. My mom, my dad, my gramma, my cousin, too many graves to visit. Besides, I feel that if I want to communicate with the dead, I can do it just as well from home than I can at the 109 degree cemetary (it's August in Phoenix....Gross!)Well, I am planning a girls night this Saturday night with my bff. She is coming over to help me re-organize after the move of my ex. I need a change in the house. Between my depression, his drinking and a 16 yr old boy.... the house is a disaster area. I want to clarify that I am not lonely when my 16 yr old is home, I cherish the times, but he's 16. He's hardly ever home and when he is he is usually in his room... Normal. I dont know what I am going to do with myself when he moves out. I'll cross that bridge when I find it. Well, since it is nearly quitting time, I'm outta here for now. Oh! I did try to find a shrink and so far with absolutely NO LUCK. My insurance web site, had a bunch of wrong #'s a bunch of dr's that do NOT accept my insurance and those that actually answer their phones and do take my insurance arent accepting new pt's until October. I found an old Rx of Topamax. I am going to start taking it nightly in an attempt to counteract the weight gain from the abilify. Damn pharmacy technician..... That little bit of knowledge is gonna get me one day!!
Current Mood:
tired

August 1st, 2013
---
05:12 pm
I wish it were Friday, hell... I wish it were Saturday for that matter!! I dont know how I am going to make it through another day of this. I am so bored. I feel like I am being punished. I need to find a new job, but boy is it tough out there. I looked and looked and even interviewed a few times with no success. As sad as it is I believe that my inability to find a job has a little something to do with my weight. I gained 40 lbs from the Abilify my doctor put me on. It helps with my mood, but has given me metabolic syndrome. I tried stopping the medication, but I decided I'd rather be fat than depressed. Sucks I had to make that choice. I just wanted to die when I stopped the meds, so yeah.... fat it is. I could lose some weight with diet and excersize, but on top of it all... I'm lazy. The depression is kept at bay, but I still lack motivation. I'm still waiting for the right chemical reaction. My PCP referred me to a psych dr, but I have yet to find one. I did start seeing a "spiritual" counselor. I found her through Missy, who was seeing her after her husband went missing and then was eventually found deceased. Her name is Barbara, Missy and I call her B. She has helped in me in oh so many ways. I went to see her when I was overwhelmed by the loss of my mother. My mom was found in her apartment on a Monday, we are pretty sure she passed away the previous Friday. I had called my mom and left a message, then I called again and her voicemail was full... I just thought she was busy. It was a shock to find out she was gone. She died of "mixed drug intoxication". She had taken several different prescription meds in an attempt to sleep and it killed her. She had just started a new job and she was so happy. Things have never been the same. It's scary not having living parents. It feels like free falling. Who do I go to if my car breaks down? If for some reason I lose my job or my home? What if Julian or I became seriously ill? Nobody loves you like your parents. Nobody. I have lost all sense of security. I have to depend on myself now. Speaking of which... I'd better get to work.

July 31st, 2013
---
10:11 pm
Out of nowhere, 5 long years later,I decided I would make a new start. Unfortunately, I went backward instead of forward. Reading my old entries, and hers... The sinking in my stomach and all of the regret and guilt is not what I was looking for, but exactly what I found. I understand her hatred. I get it. I want to soothe the inferno that burns inside her, I want to say I am sorry and that if I could take it all back I would. A million times I would. I am afraid my apology would come as an insult and I dont want to make things any worse than they already are, so I sit in silence hoping that maybe someday she will see this and be soothed... If even just a little. I made a dreadful mistake. I am more than sorry. This is the last time I am going to mention that period in my life. There is nothing I can do to make things better, as much as I wish I could.
Current Mood:
dirty

October 29th, 2008
---
06:50 pm - Broken Harp
Please don't reproach me
For, for how empty
My life has become

I don't what really happened
I watched your disappointment
At being misunderstood

I forgive you

Oh
Something metal
Tearing my stomach out
If you think ill of me

Can you
Can you
Forgive me
Forgive me
Can you
Can you
Forgive me
Too

Too

I tried to learn your language
But fell asleep half undressed
Unrecognizable to myself

June 16th, 2008
---
09:10 pm
Because I was not an enabler....I am a killer and a laugh. I tried to help him the best I could. I called the authorities in an effort to save his life, friends or enemies. It was never in hate....Someday, you will figure it out.....Maybe you wont. Either way, it doesn't really matter anymore now does it? With Michael gone, there is no reason for us to EVER cross paths again.

02:51 pm - RIP
I am so sorry and sooo very saddened. I hope you find what you were looking for and it is more than you ever hoped for.
Rest in Peace Michael.....
Current Mood:
sad

May 25th, 2008
---
12:39 am - blah........
I sleep all day, then cannot sleep at night. I have a million things to do and no motivation to do them, so a million things they will remain. I want to DO something......I have lots of good movies on VHS, but my gay VCR that David gave to me, with all of little jewels glued to it has finally died. I cannot get rid of it, it sits in the top of my closet taking up much needed space. I have a lot of stuff like that. As usual, almost a year later and I have still not unpacked. I went through my books tonite, looking for a suduko or crossword puzzle.......SOMETHING, I found my mandalas and thought for a second they may be entertaining, no. I found A LOT OF SHIT that I will carry with me for the rest of my life. I'm sentimental and stupid bout things like that.....I have bday cards from when I turned 7. I thought LJ might help, but no.....Everything is irrelevant tonite, maybe tomorrow it will be all balloons and bubbles, but not tonite.
I suppose I will swallow my seroquel, it should have me out within thirty mins tops....Maybe I'll take two.

December 23rd, 2006
---
03:41 am - 3:30 a.m.
It's Two days before Christmas, but I did it. I crawled out of my depression long enough to go shopping and set up a tree, I even ATTEMPTED to make "reindeer" cookies for my son's special day. I bought him a guitar and a book/cd guide. I also got him a K'nex rollercoaster to build..Anything to keep him away from this computer and his beloved "Runescape". I have been sick for over a month now. I went to the Dr on Thursday for my third course of antibiotics. This time it is Augmentin 875mg twice a day for 14 days, it should kill whatever bug (or horse) I have been hosting for the last month or so.
Happy Holidays!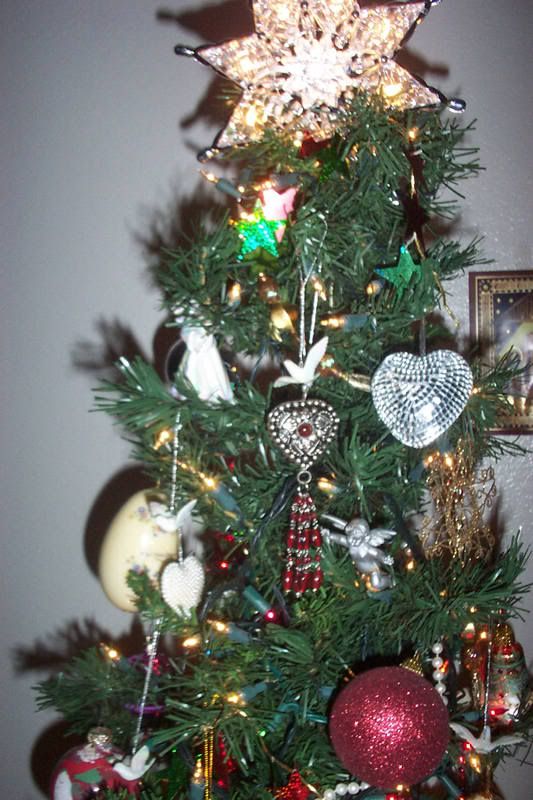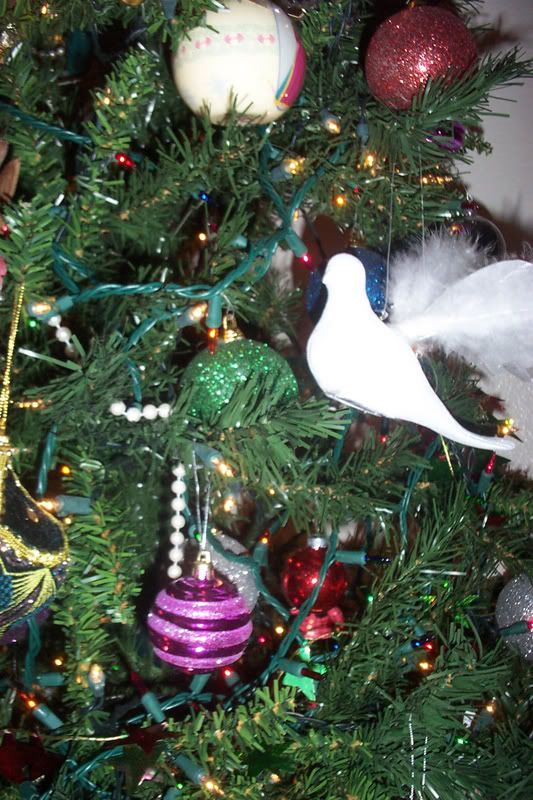 And......The cookies!! Ha! A domestic Goddess I am NOT!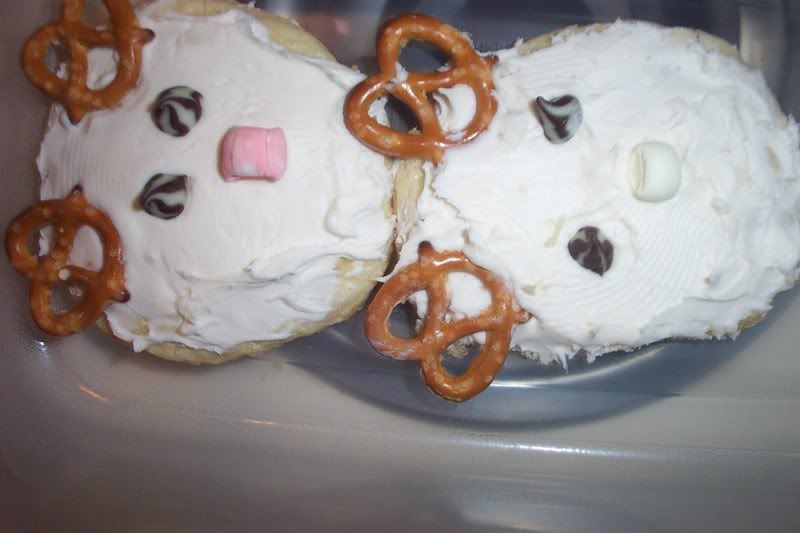 December 14th, 2006
---